Stop Press...
catch up with the very latest on Charlwood, Hookwood and Norwood Hill....

Charlwood Village Primary School will be having a textile collection soon. All funds raised will go towards our ECO activities in school. We are a Green Flag School and our activities cover nine topics – Litter, Waste, Energy, Water, Biodiversity, School Grounds, Transport, Global Citizenship and Healthy Living. We try to work on all areas year round but also have a specific area each term. This term the focus is Waste.
If you have any of the following items that you would like to bag up and bring in to our school to help us with our activities we would be very grateful :- All kinds of adult and children's clothing, hats, shoes, belts, handbags and household textiles including sheets, pillow cases, duvet covers, curtains and towels.
They do not accept blankets, bric-a-brac, duvets, pillows, sleeping bags, rugs, offcuts of fabric, any wet items, tent canvas. No ripped or stained clothing please.
Please bear in mind that the clothing is for re-use so should be in a wearable condition.
Please bring your donations to school by Tuesday 20th March 2018 ~ THANK YOU!
Chapel Road, Charlwood, Surrey, RH6 0DA. 01293 862302
There are still a few copies available of
The
Charlwood Picture Book
For only £5 plus p&p, for anyone who wants to know more about the history of the village and some of its listed buildings. Can be obtained by emailing me on
pjabass@yahoo.com
or telephoning 01293 863784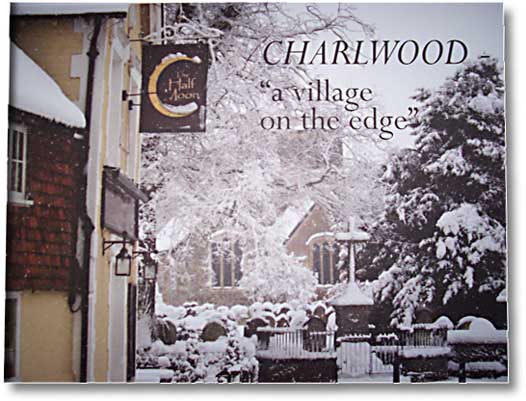 Steere Strikes Twice
Charlwood Village Reserves 3 - Oxted & District 2 MORE