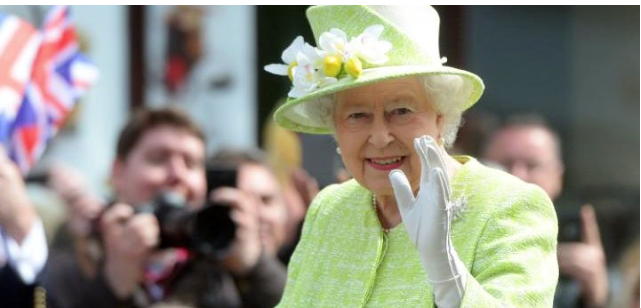 Charlwood certainly knows how to celebrate in style! And what a celebration we put on to mark the occasion of our Queen's 90th Birthday. Send Her Victorious – we certainly did!
The Right Royal Do started with people drifting one-by-one and then in droves to the Millennium Field to witness the official opening, by Surrey County Councillor Helyn Clack, of our Living Sculpture. A long flag-waving procession then snaked itself along the Street to the Glebe Field where we heard the bells ring to herald everyone in.
Children eagerly held up their teddy bears to see who would be judged the best dressed and prizes were duly handed out before the judging of the most decorated crown commenced. Once everyone was settled Punch & Judy entertained; not only the children, but their parents too. Afterwards, children tucked in to their picnics.
The church was the place to be for a quiet reflection during the festivities. The gorgeous flower arrangements, imaginatively displayed in the most vibrant of colours were an absolute joy. A rolling history of Charlwood in photographs elicited many 'Ooh, I remember that' from those watching. Charlwood School and Pre-School had made some lovely birthday cards and these were on display too. The winning cards from each class have been sent to the Queen.
The afternoon was going very well; everyone was happy and smiling as we made our way up to the top Glebe Field for the Charlwood Games. A series of hilarious fun games ensued, with children cheering on their parents as they raced – elephant style – to knock over water bottles and dress up in ridiculous clothes. Unfortunately, the heavens open and torrential rain stopped play.
Once everyone was well and truly wet through, the rain stopped to become a beautiful sunny evening and people queued up to enjoy a tasty hog roast before settling down for the evening entertainment.
Chewi choir and friends stepped on to the stage to delight the crowds with a review in words and music of the past 90 years. Starting with Baby Face, a song that was first heard in 1926, they sung and shared snippets of history through the decades to finish with a rendition of Happy Birthday Your Majesty.
Excitement grew as we were treated to Tania Alboni singing as Karen Carpenter, her husband Darren came on as Roy Orbison. Interspersed with the fabulous Hannah May Collective, a true rising star in our community, The Ultimate Tribute show continued to wow throughout the evening with Shania Twain, Mick Hucknall and Amy Winehouse tributes. But the highlights of the evening must surely be Cher and Elvis – just wow! If you weren't there, you missed a treat – Tania and Darren are such consummate professionals and by the behaviour of the crowd, it was hard not to believe that it was actually Cher and Elvis on stage! We are so lucky to have such talented artistes in the village.
A bright Sunday morning saw us gather for a Royal Songs of Praise, a service that included a wonderful selection of hymns and lessons together with a sung Celtic Blessing and a poignant 'Reflections of The Passing 90 Years'. Once the service was over, the church transformed to welcome invited special guests. All those aged 90 and over in our parish were invited to a special lunch to celebrate. They were served a delicious lunch whilst other members stood chatting over a buffet lunch. A toast was made to Her Majesty and our own Octogenarians, a final Happy Birthday was sung and the bells rang out once more to signal the end of what was a most Happy and Glorious occasion.
And now some thank you's!
Firstly to the trustees of John Bristow and Thomas Mason Trust, our primary funder, who without their generous sponsorship we could not have even contemplated such marvellous events. Surrey County Council Members Allocation Fund supported our Living Sculpture project and this will be Charlwood's permanent memorial to the Queen. Through their Community Partnerships team, Gatwick Airport Ltd, kindly donated towards the hire of the staging, lighting and sound systems.
Locally, so many people in our wonderful village helped – far too many to list here. Never did I think that when I called a public meeting back in February that we could put on a weekend festival in just 3½ months. Thank you seems rather inadequate, but nevertheless, thank you all – you know who you are.
Charlwood is truly the most AMAZING place to live.
Penny Shoubridge