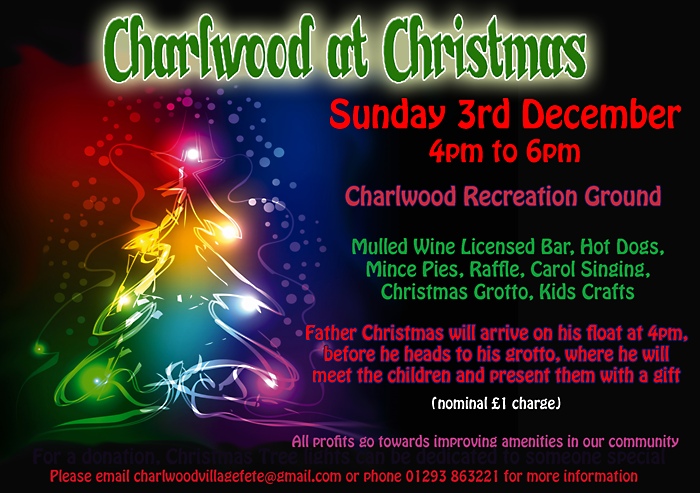 Charlwood Recreation Ground – 4pm to 6pm
For a sparkling event set to herald the start of Christmas, on Sunday 3rd December Charlwood Recreation Ground and the new Sports & Community Centre will be the setting for a magical winter spectacular as Charlwood at Christmas gets underway.
Father Christmas will arrive on his magical illuminated float to the Recreation Ground, before heading to his grotto where, if you've been good girls and boys, he will give you a present.
Mums and Dads, Grandma's and Granddad's can enjoy a glass of Mulled Wine as the children, one by one, get to whisper their Christmas wish to the great man himself. Along with a raffle, mince pies, hot dogs and licensed bar, there will be something for everyone.
Young and old alike are in for a treat as at 5.30pm we congregate in front of the Sports & Community Centre as the glittery, twinkling lights on our Christmas Tree get switched on as if by magic by Father Christmas and a special little helper. Just add you name to the free prize draw and one lucky child will be chosen as Santa's helper to switch on the tree lights alongside Father Christmas.
All the lights on the tree are sponsored and can be dedicated to someone special for a suggested donation of at least £5 per bulb; this is a lovely way to remember loved ones.
The evening comes to an end as the raffle is drawn and our community Carol Singing gets started and we all enjoy those well-loved Christmas tunes before heading home, happy and excited.
For more information, please check the community website www.charlwoodandhookwood.co.uk or email charlwoodvillagefete@gmail.com.