Our Normal Sunday Services


at St Nicholas Church, Charlwood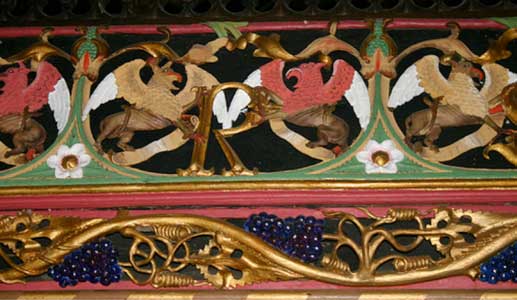 Every Sunday

8.00a.m. Holy Communion

Most 1st Sundays of the Month

9.30a.m. Family Service

3rd Sunday of the month

9.30a.m. Sung Mattins

Other Sundays of the month

9.30a.m. Parish Communion

Each Thursday (usually)

10.15 am Holy Communion

Baptisms, Weddings and Funerals - please contact the Rector



Church Groups
---
Pre-School Praise:
Music, Craft work, Refreshments, Praise for accompanied children under school age.
The first Thursday of each month (except August) 1.30 – 2.30p.m. in the church and/or the Nicholas Room. For further information please contact the Rector.
---
Venture Week.
An annual week of activities, held during the summer for children up to 14 years.
---
NicsMix (St. Nicholas' Monthly 'Sunday School')
Every 2nd Sunday of the month, from 9.30-10.30am, 5-10yr olds meet in the Nicholas Room for * DOUGHNUTS, DRINKS & ACTIVITIES * (sometimes even a film!). Great fun if you like to get sticky! Younger people also welcome, and parents can join in, too! Just drop in or contact Beth McLean
---
Larks & Linnets (St. Nicholas' Junior Singing Club)
Every term time Wednesday from 5.45 – 6.25pm.
All 5-10year olds are welcome to make music of all sorts; 'Pop', 'Folk', 'Action', and lots of tongue-twisters!, as well as the special song they prepare for the monthly Family Service on the 1st Sunday of each month.
Contact: Beth McLean.
---
St. Nicholas 'Junior Choir'

Wednesday (term time) Practices from 6.30pm – 7.30pmThe Juniors (8-16yrs) are part of the main Church Choir and meet 30mins before the adults arrive to learn singing skills and achieve their RSCM awards.
---

St. Nicholas Choir
Practices on Wednesdays from 7.00 - 8.00pm (approx)
Our two Organists, John Sharples & Beth McLean offer a full variety of church music. Interested singers are very welcome to 'come and try'. Reading music is not essential!


---

Heartbeat (St. Nicholas' Music Group)
The music group incorporates musicians of very varied instruments, styles, ages and abilities, together with singers. Heartbeat plays at the Family Service (first Sunday of the month) as well as for four services each year.
Rehearsals are in The Nicholas Room at 7.00pm on the Wednesday before Family Services, and on Fridays at 8.00pm at Beth's, four times/year (with refreshments).
Contact Beth McLean

---

Bell Ringing:
Charlwood Bellringers meet every Tuesday evening between 7.30 - 9pm for our practice night to enable us to ring the lovely old bells of Charlwood for Sunday Services, weddings and other celebrations . It is important for this ancient art be passed on through the generations in order that the ringing of Charlwood bells continues into the future - a skill which has been practised in the village since the 1660's. So if you are already a ringer do please come along and join us. Or if you would like to learn to ring, do get in touch, you will be most welcome.
Contact: Lorne Cox Tel:01293 862224 email: coxlef@gmail.com

---

Mothers' Union:
The Mothers' Union is an international Christian charity that seeks to support families worldwide through prayer, financial support and working at the grassroots. Four million members, not all women, are spread through 83 countries and include single, married, parents, grandparents and young adults meeting local needs.Charlwood Mothers' Union meets on the first Wednesday in the month at 2.15pm in the Parish Hall. Meetings usually start with a few prayers then have a speaker on a variety of subjects and end with tea. Fundraising events include Coffee Mornings, a Summer Lunch and a New Year Tea Party.
For further information contact Gill Mason.
---
Flower Arrangers:
There are currently a team of 26 flower arrangers. New arrangers are always welcome with or without experience.
The flower arrangers meet once a year to sort out dates and rotas. At the meeting it is also decided who will be responsible for each of the three festivals, Easter, Harvest and Christmas. It is these 'leaders' responsibility to get a team together.
There are no flowers in church during Lent or Advent, so 42 Sundays need to be covered. Most arrangers tend to do two weeks running, to make the best use of flowers used.
For further information: contact Katie Kett.