Saturday 15th June – 12noon to 5pm, Charlwood Recreation Ground
A whole array of entertainment is planned to keep you and the family amused throughout the day. Come early – enjoy a BBQ lunch and afternoon tea amid a host of stalls, sideshows and arena events.
With the organisers working hard to bring you an afternoon jammed-packed with excitement, we are already on the way to securing some fabulous entertainment with Live Music, BBQ, Real Ale, Licensed Bar and lots more.
New for this year, we bring you a children's fancy dress competition. With the theme of Favourite Characters, this lends itself to some creative ideas. Free to enter with prizes for different age categories, we hope for this to be a popular addition. Get your mates together and enter a team of 8 to take part in the 'end of the show' event that is the annual Tug of War competition.
The ever-popular Fun Dog Show is returning with a variety of classes to suit everyone and their dog. We suspect that this will be as popular as ever with classes for all ages, types and breeds of dog. Prizes and rosettes will be awarded to fourth place. An added bonus will be a Best In Show category with a cup for the overall show winner.
For more details, please contact charlwoodvillagefete@gmail.com

The Tug of War always pulls in the crowds
The Fun Dog Show classes this year are:-
Schedule for Fun Dog Show
Entry: £2 per class
1. Child Handler under 12
2. Best Puppy 6-12months
3. Prettiest Bitch
4. Most Handsome Dog
5. Best Rescue
6. Best Veteran (over 8 years)
7. Best 6 Legs
8. Dog the judge would most like to take home
9. Best in Show – winners from the above 8 classes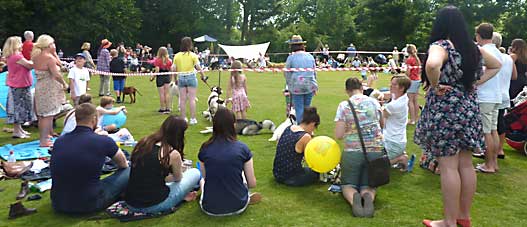 The ever popular Fun Dog Show